Unemployed aeronautics workers produce parts for respirators
News
Tuesday, April 14, 2020 - 14:54
solidaire.org
They're going to the factory to save lives. On the heights of Herstal, Safran Aero Booster usually manufactures aircraft engine parts. Since mid-March, workers have been unemployed with supplementary pay. All of them? No. A few volunteers still come to the factory to make spare parts for the respirators that hospitals need. Meeting with Stefano Scibetta, shop steward FGTB (socialist trade union federation) Métal.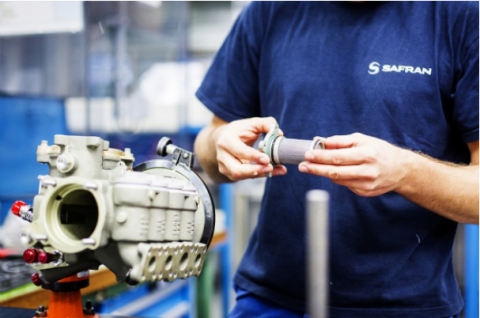 "When the government announced the containment measures, management convened an extraordinary works council", says Stefano Scibetta. "It explained that to satisfy customers, meet delivery deadlines and avoid penalties, in short, for the good of the company, we had to keep working."
A situation that the workers did not let pass: "There was a contradiction between the government's directive for generalised containment so as not to cause a peak in hospitals and the presence of 1,600 workers on the Safran site. "How can the health of workers and their families be guaranteed under these conditions?" Those of Safran have won their case: "Since our company does not produce anything vital to fight the coronavirus, we insisted that the plant close for two weeks. Moreover, in the workshops the staff was nervous and afraid of the risks of contamination. Our pressure worked: we were able to impose a temporary shutdown of the plant", explains the senior shop steward.
So everyone went home?
Stefano Scibetta. Not quite. Following a call from hospitals, a team of engineers, workers and technicians got together to produce spare parts for respirators with our machines: flowmeters. These are components of artificial respirators that are changed after each use, so hospitals are in shortage.
Engineers made the plans. Then programmers calibrated the machines. And after the three days off, management asked the union delegations to be able to bring back workers to produce flow meters and protective visors. We immediately responded positively. Of course we are willing to help save lives. We made a first sampling of 100 pieces to test them, and now the production is running.
Specifically, how many workers are mobilized for this production?
Stefano Scibetta. Now that the machines are calibrated, we have about ten workers who operate the 3D printer, check the parts, measure them. Warehousemen are also needed for logistics.
Then the parent company asked if it was possible to bring back some of the workers to restart minimum production. It should be noted that in France, where the parent company is located, the group's factories are running. Yet the number of sick people is increasing all the time. Our comrades over there do their utmost to get everyone confined.
But here, we've hardened the tone a bit. We just agreed that 15 workers would come back to the site, with all the sanitary precautions, gloves, masks, hydroalcoholic gel, distances, to complete four engines that were ready to be delivered. As for the rest, we are inflexible: the main thing now is to help hospitals, not to produce aircraft engines.
That said, by being temporarily unemployed do workers lose money?
Stefano Scibetta. That's why we've started a negotiation. Management proposed three additional days of paid leave before enrolling staff on temporary unemployment for force majeure. We have already experienced quite a lot of unemployment since the beginning of the year, due to the difficulties at the aircraft manufacturer Boeing [part of the engine of the Boeing 737 Max, which has been out of production for months, is built in Herstal, editor's note]. We have therefore demanded a supplement to unemployment benefits. Initially, management did not want to pay a top-up to 100 percent of the salary. It said that it was not normal for workers to earn as much from doing nothing as from working. For our part, we felt that for ten years we had been producing wealth, and it is normal that this wealth should go, in part, to the workers. Finally, we reached an agreement that provides for a top-up to almost 90 percent of the salary. And that agreement was extended until April 19th, as the government extended the containment measures.