Coronavirus: a contingency plan to protect our purchasing power
News
Thursday, March 26, 2020 - 14:19
PTB.be
The epidemic represents a threat that should not be underestimated. A threat to our health first, of course, and to our purchasing power as well. There can be no question of shifting the burden of the crisis onto the workers. Here is the contingency plan developed by the PTB-PVDA, with 7 concrete measures aimed at protecting our purchasing power and getting the big fortunes to contribute.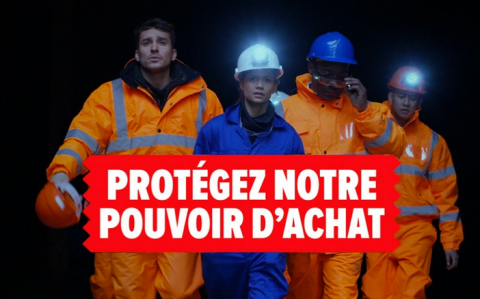 1. Guaranteed income for all employees and self-employed persons
Workers should not pay twice for the coronavirus crisis, both in terms of health and from a financial point of view.
We have received hundreds and hundreds of stories from concerned workers who do not know how they are going to make it at the end of the month. The government has promised a lot to big business, but it is time to provide workers with an emergency response that is appropriate to the situation.
The PTB-PVDA proposes that:
Economic unemployment benefits be extended to all salaried workers without exception, i.e. to employees, student workers, all temporary workers, freelancers, workers in the cultural sector etc. so that no worker is left out in the cold.

All employees who are unemployed for economic reasons be guaranteed 100% of their wage during the crisis, while increasing the current economic unemployment benefit ceiling to match the average wage (from 2,750 to 3,558 euros gross).

Self-employed persons affected by the crisis receive a minimum monthly income of 1,500 euros net of tax in addition to all other support measures announced, which must be granted directly without requiring numerous administrative steps.
2. Cancellation of energy and water bills
We suggest a cancellation of energy and water bills realted to the months of the coronavirus crisis for all victims of the crisis. Indeed, in addition to reducing their resources due to temporary lack of work, home confinement can inflate households' energy and water bills. 
The PTB-PVDA puts forward:
A suspension of all cuts and other limitations on access to water and energy.

A cancellation of water and energy bills for all victims of the crisis (be it because of economic unemployment, sick leave, etc.), made possible by making the energy and water giants contribute.
3. No lay-offs during the crisis
It is unthinkable that at a time when a serious health threat hovers over the entire population, workers should also risk losing their jobs. Moreover, we cannot accept that certain managers take advantage of the crisis to get rid of their staff. In such an exceptional crisis, exceptional measures are needed to protect the workers.
The PTB-PVDA requests:
The establishment of a "zero-layoff" period while the crisis lasts, as introduced by the Italian government.

That temporary and fixed-term contracts be extended during the crisis (whilst making it possible for workers to receive economic unemployment benefits, see point 1).
4. Deferral of mortgage payments for victims of the crisis
The PTB-PVDA wants mortgage payments to banks to be suspended during the crisis. This suspension would be valid for the duration of the crisis, but also for a period of 6 months after the end of the crisis. Banks would not be allowed to reject applications and the deferral would be valid for both households and small businesses, with no additional interest to be paid for the suspension period. This measure was taken in Italy and must be taken here as well.
In 2008, the people saved the banks. Nothing would be more natural today than for banks to in return help the people now and allow them to defer their mortgage payments so that they are not dragged into a spiral of debt.

It is also logical that a similar measure should be considered for tenants finding themselves in the same situation.
5. Thank-you bonus for caregivers and workers in essential sectors
In this time of crisis, we can see who keeps our country moving. It is the cleaners, the nurses, all the health care workers, garbage collectors, production workers, store staff, truck drivers, teachers, utility workers... the list goes on and on. They take risks to provide essential services to society. We must support them, especially all those who are on the front line in the fight against coronavirus.
The PTB-PVDA puts forward:
A monthly premium of 400 euros gross to all caregivers.

A monthly premium of 200 euros gross to all workers in key sectors which must continue to operate during the crisis.
The Netherlands and Italy have decided to grant such bonuses. Taking such a step does not cost a lot of money, but it is a concrete way to support and thank all those heroes who are on deck day and night.
6. Automatic child care leave for parents who look after their children
The PTB-PVDA proposes that, as in France, automatic leave be granted for parents who are forced to stay at home to look after their children under the age of 15. Thus, if a parent needs to take care of the children for one reason or another (for example, because he cannot work from home), he reports this to his employer, who grants him this leave. Such a situation can also result in economic unemployment.
Therefor, the fact of having to care for a child because no other solution can be found must be a ground for entitlement to economic unemployment benefits for self-employed persons (see point 1).
We hear a lot of parents who are having a hard time looking after their children. In this regard, government recommendations are contradictory and a certain number of schools are closing today as well. This automatic leave is absolutely necessary.
7. Full reimbursement of all coronavirus-related medical expenses
A significant part of coronavirus-affected people end up in hospital and may even require intensive care for a long period of time, which can imply a heavy financial cost for those who do not have the best insurance. The virus can also lead to loss of lung capacity, thus making longer-term rehabilitation necessary. It is society's responsibility to provide the best possible financial support to those affected by coronavirus and to ensure that all costs are covered, which will also prevent victims from postponing treatment for fear of not being able to pay for it.