Sofie Merckx becomes the new chair of the PTB group in the Federal Parliament
News
Monday, February 7, 2022 - 12:18
ptb.be
General practitioner, perfectly bilingual, field worker and federal deputy since 2019, Sofie Merckx succeeds Raoul Hedebouw as chair of the PTB group in the Federal Parliament. "My commitment began as a student alongside the workers of Renault Vilvoorde and of the Forges de Clabecq and, since then, I have continued to be involved, whether for housing and health care rights or against the power of Big Pharma," explains Sofie Merckx. "I am proud to be able to continue all these struggles today as group leader with the whole party collective."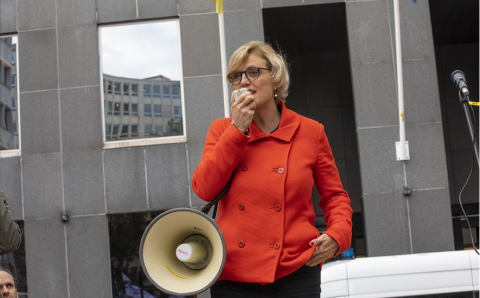 Raoul Hedebouw, the new president of the PTB, testifies: "In just two and a half years, Sofie Merckx has established herself as a valuable member of Parliament thanks to her knowledge of the issues and the field. Whether on the management of the pandemic, abortion rights or vaccine patents, when she tackles an issue, she doesn't let go and regularly puts ministers in uncomfortable positions. Ministers Maggie De Block (liberal) and Frank Vandenbroucke (social-democrat) would surely agree with me. The choice was therefore quite logical and made unanimously within the parliamentary group. It's also very important to have women taking on leadership roles. This remains a challenge both in our party and in society."
"I am honored by the trust that the collective has placed in me," adds Sofie Merckx. "We are lucky to have a group of workers, comrades from all over Belgium, who represent both the unity and the diversity of the country. I will do my best to carry the voice of this collective as a chair in the coming years and to put it at the service of social struggles".