Julian Assange, WikiLeaks & war crimes | Peter Mertens meets Stella Assange
Interview
Tuesday, April 11, 2023 - 06:58
https://www.youtube.com/@PeterMertensTV
With his media platform WikiLeaks, Julian Assange exposed war crimes committed by US and European armies against Iraq and Afghanistan. Once grounds for a Nobel Peace Prize nomination, today his journalistic work is rewarded with a witch-hunt and imprisonment. On the outside, his wife Stella is fighting for his freedom.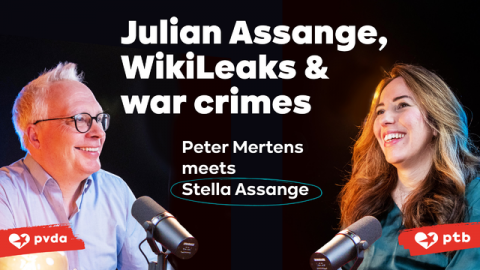 Peter Mertens meets Julia Assange for an in-depth conversation. About the cover-up of state sponsored crimes. About how wars start with lies and can only be ended with the truth. How Julian Assange's case sets a new standard for criminalizing journalism worldwide. And about Stella's plea against powerlessness, but to fight together for democracy.
To see the video click here
*About Stella Assange* Stella Assange is a justice advocate and human rights defender. Stella joined Julian Assange's legal team in 2011 and has been fighting to get him free since. On March 23, 2022, Stella married Julian Assange in a ceremony that took place in Belmarsh Prison.
Stella Assange calls to stay informed on developments in the case against Julian.
To do so, you can follow her on her channels: https://www.instagram.com/stellaassange/ https://twitter.com/Stella_Assange
Or support the cause via https://dontextraditeassange.com
*About Peter Mertens* Peter Mertens is the general secretary of the Workers' Party of Belgium (PVDA-PTB). Sociologist by training, he worked in the port of Ghent after his studies. Peter is the author of political bestsellers, such as "They have forgotten us" (2020), a strident manifesto about crisis and greed in times of corona. About an old world dying and a new one yet to be born. A call for commitment.