Illegal pension supplements: how Siegfried Bracke is trying to silence us
News
Tuesday, October 10, 2023 - 08:49
PTB.be
When their schemes are uncovered, political profiteers usually proclaim their innocence loud and clear: "I don't know anything, I've never done anything wrong, I thought everything was going by the book, ...". Former president of the House Siegfried Bracke (N-VA, right-wing Flemish nationalist party) goes further.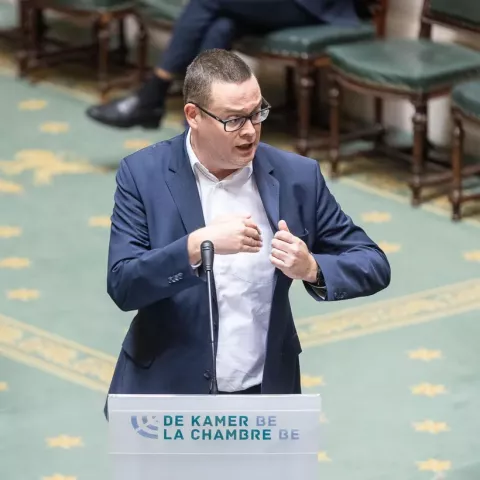 The PTB-PVDA has put the issue of illegal pension supplements on the agenda. In the spring of 2023, we revealed that Siegfried Bracke (N-VA) and Herman De Croo (Open VLD, Flemish liberal party), both former presidents of Parliament, as well as a number of MPs, had illegally granted themselves high pension bonuses.
We have also launched a petition to demand that Bracke and De Croo reimburse all sums received. De Croo did, Bracke stuck to his guns and said he had no intention of paying back a single cent.
Clearly, our petition irritates Bracke to no end. A few weeks ago, PTB-PVDA spokespersons Raoul Hedebouw, Sofie Merckx and Jos D'Haese received a registered letter from the lawyers of former House president Siegfried Bracke. The letter in question, which accuses the left-wing party of conducting a harmful and damaging smear campaign, concludes with the following threat: "We therefore ask you to terminate the petition immediately and by August 31, 2023 at the latest, and to delete it permanently without further publicity, on both the PTB and PVDA websites and in all language versions. [...] Should you refuse, we will have no choice but to advise our customer to take legal action to recover all damages."
Sofie Merckx, leader of the PTB-PVDA group in the House, reacts: "It's the world upside down. For Bracke, any means is good enough to preserve his illegal privileges. First he takes the matter to the Conseil d'Etat (the State Council, the highest judicial body), and now he's openly threatening the only party that dared to put this item on the agenda. While the traditional parties try to bury the issue in parliament, we're the only ones willing to put an end to this culture of political profiteering. That's why Bracke wants us to shut up."
The PTB keeps up the pressure
"Mr. Bracke seems to have forgotten that he is subject to the law, just like everyone else," continues the group leader. The pension ceiling is set at 7,800 euros per month. With the extra 3,000 euros he receives, he is above this ceiling. Stop playing with words: This is illegal and he has to pay it back."
Siegfried Bracke continues to deny the illegality of pension supplements for former House presidents. Yet this illegality is evident in the documents that the PTB-PVDA revealed on March 5. Two legal opinions confirmed this conclusion on March 9.
We won't be muzzled. We won't be withdrawing the petition, which has already been signed by over 50,000 people. "We're not going to be intimidated and we're not going to give up. On the contrary, I'm calling on everyone to sign the petition. Together, we can keep up the pressure until every euro is reimbursed," concludes Sofie Merckx.